The project aims to bring together societal initiatives in one place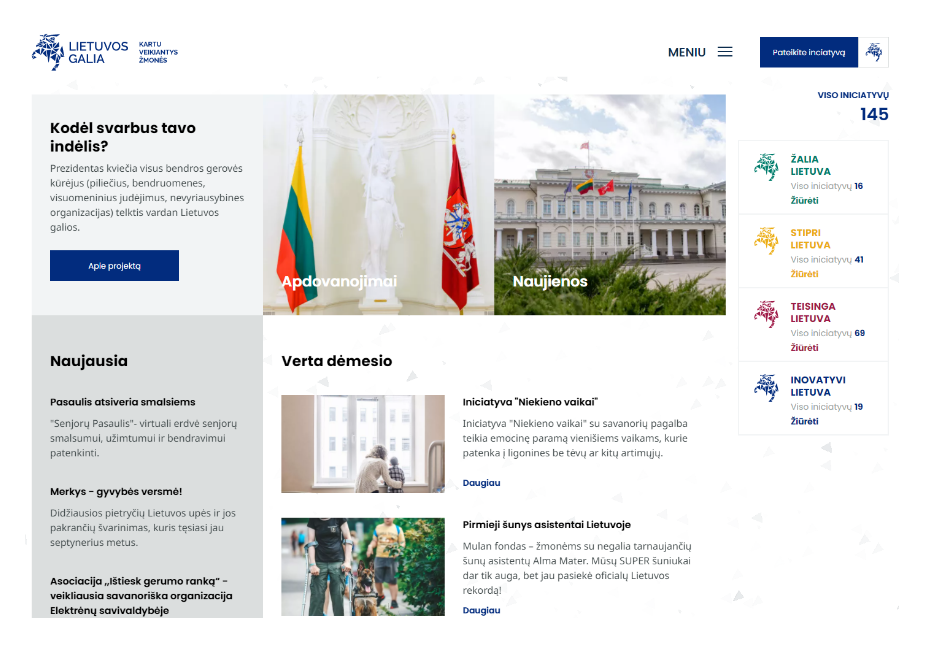 The idea put forward by the Presidency of the Republic of Lithuania, to unite public initiatives in one place. All public initiatives on the website are divided into four categories: Green Lithuania, Strong Lithuania, True Lithuania and Innovative Lithuania. Where every community, non-governmental organization, or just a group of people can place their public activities.
The concept is infographics
Already on the first page you can find an infographic, which from different details make up the symbol of the project - the stylized Vytis. The infographic shows individual details of how many initiatives in each category are published on the website. This concept we have created has become the main symbol of the website.
The main way to present a project is a video format. It is several times more compelling than long paragraphs of text. Therefore, the first view is a presentation of the project in video format.
An easy and fast-paced initiative becomes not only a unit of content for the site, but also allows the author to invite volunteers to join the initiative if they wish. The author of the initiative also has the opportunity to participate in the competition. For each initiative, site visitors can vote for the idea they like and increase their chances of winning.